AT THE OPERA
Richard ist Leipziger 1
Mention Leipzig in a conversation and someone is bound at some point to close their eyes, sigh and say "Ah yes the divine Johann Sebastian - the city of Bach." Well, yes and no, Bach was born in Eisenach. His greatest champion, Felix Mendelssohn, is another name associated with Leipzig. He was born in Hamburg. But there's another composer whose name does not seem to be instantly associated with Leipzig - and he was born there.

Richard Wagner was born in Leipzig on 22 May 1813. His birthplace has long since disappeared and in its place now stands a shopping mall known to Leipzigers as the tin can because of its shiny, sheet metal exterior. When I visited a couple of weeks ago, I wandered through the mall and tried to calculate exactly which shop was located on the spot where he was born. As far as I can make out, there's either a chocolate shop or a juice bar marking the place where the man who was considered one of the greatest geniuses of the 19th century entered the world.

"Richard ist Leipziger" Thomas Krakow, head of the Leipzig Wagner Society, likes to remind us. Yes, Wagner left for Dresden at a young age and yes, once a grown man he was endlessly on the move, fleeing creditors, chasing unfulfilled dreams of success in Paris and going on to find immense fame throughout the western world.
Last year's 200th anniversary of his death gave Krakow and his fellow Leipzig Wagnerians a chance to remind the world that this attractive, dynamic city is Wagner's home town. A Wagner Symposium was held, his early opera "Die Feen" was performed and on 22 May itself, a big outdoor party was held on Richard Wagner Platz just yards away from the chocolate shop.

A new statue was erected just around the corner from Richard Wagner Platz.It's an interesting and unusual work - with a very young Wagner in a blue frock coat standing in front of a vast dark silhouette of himself - a shadow. Of the immense reknown that was to be his? Of the immense talent contained inside that small frame? Or of the man's own shadow side? Of his reputation as an anti-Semite who work would be hijacked by the Nazis years later? Only the viewer can decide. I'd be interested to hear your views.
I was in Leipzig on February 13th and had the good fortune to join Wagner's tireless local champion, Thomas Krakow, when he and the local Wagnerians laid a wreath in the composer's favourite fuschia colours in front of a bust of Wagner behind the Leipzig Opera House.
But for a music lover with tastes broad enough to embrace both Bach and Wagner, perhaps the most moving moment of a visit to Leipzig is a visit to Bach's tomb in the St Thomas Kirche. Just a few feet away is the font where Richard Wagner was baptized....

The Froth But Not the Coffee
Last weekend took me on a last-minute press trip to Milan and Lake Como. More about that later in "Journeys" when I can transfer my pictures to the Mac. But, for now a confession. My hotel, The Four Seasons, was a hundred yards from La Scala but I could not make it to a performance. On the Friday night they were giving Massenet's "Manon" - never a favourite and on the Saturday, Verdi's "Luisa Miller." I had no ticket and the press trip kept me out and about and just far enough from the great temple of opera, on the Friday night, to feel that, if I cupped my hand to my ear, I might even hear a few sublime voices echoing through the hot, turgid Milan night air. Saturday took me to Lake Como, to a gorgeous resort called "Casta Diva" - once the home of legendary 19th century soprano, Giuditta Pasta and just across the lake from a villa that once housed composer, Vincenzo Bellini. It is said that he could hear her rehearsing.
I was far enough away by then for those fantasies of hearing present-day singers to fade away. And the "Casta Diva" resort did their best to compensate by providing a young soprano and tenor to serenade us during dinner. But the longing for La Scala was too great. I ate a starter, applauded the fine young singers, looked at my watch and calculated that I could perhaps, just perhaps, find a way to sneak into the last act of "Luisa Miller." My hosts saw my dilemma and provided a taxi. I rode the 50 minutes into Milan in the company of Luigi, an articulate and informed driver, who told me stories of the "Clooneyisation" of Lake Como. More on that in "Journeys."
Luigi and I arrived in town too late for that last act. I bid him farewell, and made my way to the great green doors of the opera house. I pulled one open and stepped inside. La Scala's ushers, Le Maschere, as they are known, were standing around in little groups waiting for their working evening to end. I was too late so what was I hoping for?
"Can I just sneak into the ovations?" I heard myself asking . "We can't do that," said an usher. "Please - just a quick glance." This was tantalizing. I could hear a tenor off in the distance. I hadn't looked at the cast, hadn't had the time but even through the thick walls, I sensed it was one of the greats. "Go on," I persisted, "just a peek." I was advised to come back when the show was over in 15 minutes. I wandered outside for those 15 minutes. On this late June night, the air was thick with heat and unmoving. Lovers kissed among the trees on the little piazza in front of the theatre. The great glass-roofed 19th century Galleria arcade was quiet. Nearby a new gelato parlour beckoned but I had my date with the ovations.
When I returned to the theatre, a kind young usher, ushered me into the auditorium. THAT auditorium. The one that still somewhere in its ether, holds the echoes of voices from Caruso to Pavarotti. This is the theatre that looks the way we all imagine a great opera theatre should look. Red velvet, gold filigree, chandeliers - all wildly impractical for truly listening to and seeing an opera but this is La Scala and most of us don't care. The singers came out for their bows. And sure enough, there was one of my favourite tenors, the great Argentinian, Marcelo Alvarez. And wonder of wonders, there was baritone, Leo Nucci, 70 years old and bowing to tumultuous applause. I joined in. How daft is that? But by now I had realized that I was getting the froth if not the coffee in the cappuccino. And in Italy, how bad could that be?
SO WHO SHOULD PLAY WOTAN IN THE MOVIE? AND NO, HE DOESN'T HAVE TO SING
I recently took a deep breath, packed my bags and went off to Los Angeles to pitch my "Winter Music" script to studio executives at a Screenwriting Expo Pitch Fest. These are a form of speed-dating for screenwriters. I'll post a longer account of that experience on the blog page.
For now, let's just say that pitching a dramatic story with comic elements whose protagonist is a bass/baritone who wants to sing Wotan, is a hopeful and touchingly optimistic undertaking in a Pitch Fest where the buyers all seem to be looking for 'action, thriller, broad comedy in the style of "Jackass"'. But I plodded on, into the ballroom of the Westin, LAX and recited my 5 minute version of my 120 page script. And oddly enough, the guys on the other side of the table, listened, laughed and took my one-sheet (the poster-style page that evokes the story.) BUT they all asked the same question: Who could play the lead male? He's a 48 year old Italian-American, greying dark hair, powerfully built, a quietly intense man who carries his reputation as one of the world's greatest opera singers discreetly. And to add to the complication, he's a bass-baritone and not a tenor. However, he does not have to sing. So that helps.
But the general feeling from both sides of the pitching table, was that today's male leads lack the dramatic weight, the Old World 'gravitas', the true grown-up charisma that my character, Leo, needs. I do have one actor in mind but I'd be curious to hear any suggestions from any of you.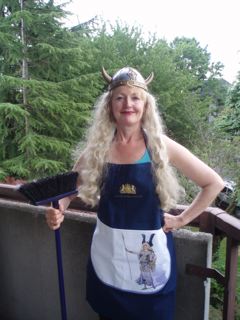 This has been a quiet summer for opera out here on Canada's West Coast. Seattle Opera did not put on any Wagner which left a lot of us here feeling a little lost. One has even been reduced to a bit of DIY...
I've been riding the bus/train/borrowed car to Speight Jenkins' amazing theatre for a decade now and have seen some of the best Wagner to be seen anywhere on the planet.
As some compensation we had day two of New York's new Ring complete with Robert Lepage's billion dollar contraption that was to be all things to all gods and men. I saw Rheingold in a movie cineplex in Halifax, Nova Scotia.I've bored all my friends witless with my rants on popcorn and opera. (They were never meant to meet.) But it was the filming of Rheingold that dismayed me. Opera singers do an amazing, physically exhausting job (trudging round perilously raked stages in baking hot costumes that weigh a ton) but THEY WERE NEVER INTENDED TO DO IT IN CLOSE-UP. Bryn Terfel is a great Wotan, I am sure, but it was hard to know when confronted with two hours of his tonsils. And Robert Lepage's amazing machine might well be just that but in close-up it just looked like an oversize piece of IKEA furniture that they'd put together after they lost the manual. Oh well, I've heard that it looked amazing from inside the Met. So a trip there might be in order. Watch this space - but not too closely....And for the link between Seinfeld and Wagner, please click on the "Janette Griffiths on Wagner" link below.